Your travel arrangements should allow you to be in Tignes by Sunday afternoon at the latest. If you are delayed for any reason and can't attend the Sunday 5.30 ski course introduction meeting, please text or ring 0044 788 0551360.
Whilst most clients make independent travel arrangements, some tour operators will allow you to book their flights and transfers even if you aren't booking a package with them. Crystal, Club Med, Mark Warner, Ski Total and Ski Olympic to name just a few of the popular ones, all go to Tignes.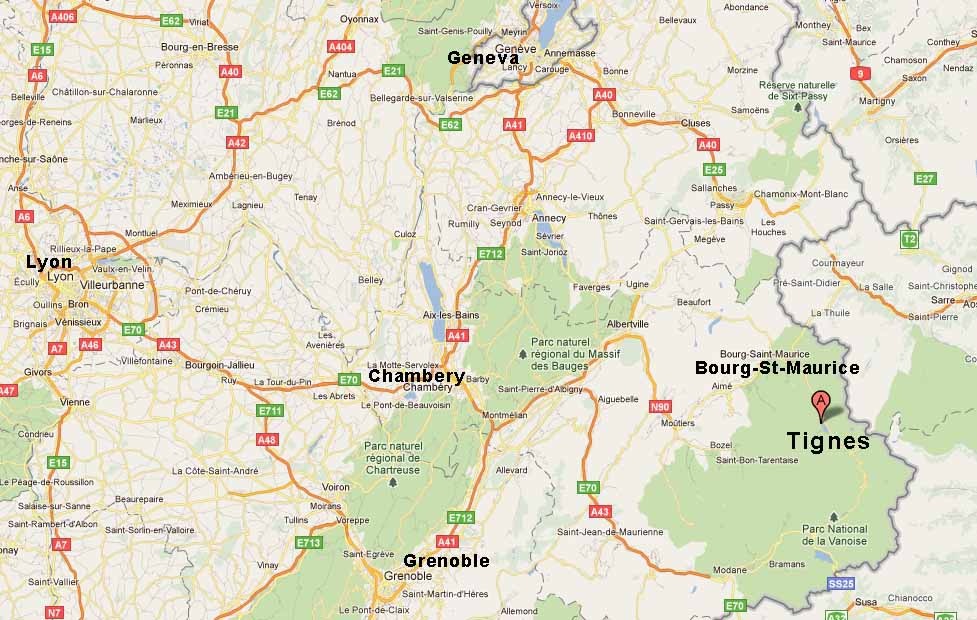 If you are driving to Tignes, at all costs try to avoid arrival at or departure from Tignes on a Saturday, unless you do so in the early hours. Leaving the resort in particular even in normal weather can take three hours just to Bourg St Maurice - a journey of 25 kms.
A good way to travel to Tignes from the ferry ports is via Dijon, A40-Bourg en Bresse-Geneva. Then A41-Annecy-Chambery. The alternative route via Lyon has been much improved recently, with a ring road linking to the wonderful Burgundy region. Once in Tignes, you will have to park in the garages, which for convenience should be booked in advance.
Phone Tignes Information Parkings on +33 47940 0670
or email parkings@tignes.net
or link to https://en.tignes.net/holidays/car-parks.
Note:
Beware of over-reliance on GPS for directions to Tignes. We have heard from clients who have found themselves being directed to Tignes via the Petit St Bernard, or even the Col d'Iseran, both completely impassable in the winter. "We thought it was very odd", they said, "When the snow drifts got deeper and deeper". There is no substitute for a paper map and don't take the shortest-seeming route using local roads.
Flights from the UK arrive at the following airports:
Chambery seems to serve one tour operator's flights only
Grenoble has relatively infrequent services to and from the UK.
Lyon and Geneva have frequent daily flights from London and the transfer times to Tignes are almost the same, though Lyon seems the more straightforward journey.
SNCF: runs daily trains from Paris to Bourg St Maurice railway station.
Eurostar: direct connection to Bourg St Maurice by Eurostar from London and Ashford. Or travel on the overnight ski train and get an extra 2 days' skiing.
From Bourg St Maurice, take a bus or taxi to Tignes - about 35 minutes depending on traffic. Leaving from Tignes on a Saturday morning after 09.00 allow a least 3 hours to get to Bourg St. Maurice.
Bus connections:
From Geneva and Chambery - www.altibus.com

From Lyon - http://satobus-alpes.altibus.com
Taxis:
A Google search produces dozens of taxi options; vehicles varying in size depending on your needs. The costs also vary, but not by a great amount.
A couple of companies popular with our clients are below.
We recommend you provide them with full details of name, number of people, time and date of arrival and airport.
Book well in advance!
Delta Taxi France
Email deltataxi@aol.com
Yann Taxi